2nd Future Leaders' conference gains momentum.
September 24, 2018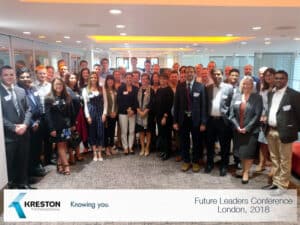 Kreston held its second Future Leaders' conference in London, attracting nearly 50 delegates from 12 countries.
Following a welcome reception at The Grange Tower Bridge Hotel, the conference opened with an introduction to Kreston by European Regional Director, Dagmar Brösztl-Reinsch from Kreston Bansbach. Dagmar gave attendees an overview of Kreston, its history and the vision for the future of the network and then recently appointed Kreston CEO, Liza Robbins introduced herself and offered an insight into the values and traits that are important when leading an international network.
The theme of the main business agenda, presented again by Tim Sayers from PDW Group, looked at leadership behaviours in the context of developing and leading high performing teams and the attributes needed to make the team a success. Through a range of activities, including breakout sessions, Tim and his team facilitated a great mix of coaching and professional acting and the event concluded when delegates presented their findings to the rest of the group.
Liza commented:
"It was excellent to welcome returning and new future leaders to this conference and to see them interactive so well with each other. Succession has been identified as among the top issues facing the accounting profession and I feel sure we will be in very capable hands over the coming years."
Delegates then enjoyed street food and competitive crazy golf at Swingers Golf and a fun team building challenge at famous London attraction, The Crystal Maze Live Experience.