---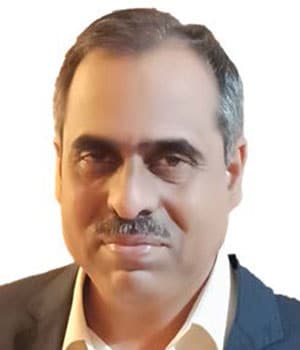 Ganesh Ramaswamy
Partner at Kreston Rangamani and Associates LLP, Global Tax Group Regional Director, Asia Pacific
Ganesh has extensive experience of more than 30 years in providing specialist tax services, particularly to large privately owned groups, with particular strengths in the property, retail, healthcare and hospitality industries. He has supported various entities with specialist advice on tax-effective structures and restructures, cross-border transactions on account of outbound and inbound India investments, mergers, acquisitions and divestments. Ganesh has also worked with stakeholders across businesses to deliver solutions such as tax due diligence, tax consolidation and restructuring of large family businesses in the Middle East, Asia, and Singapore.
---
Investing in India
April 17, 2023
Investing in India is a compelling opportunity for "interpreneurs", looking to tap into a rapidly growing economy that is already in the process of overtaking the UK to become the world's fifth-largest economy. The Reserve Bank of India and the International Monetary Fund predict a 6.8% growth in the Indian economy for 2023.
India is expected to attract $100 billion of foreign direct investment in 2023 with attractive investment opportunities in sectors such as healthcare, renewable energy, information technology, and real estate. The Indian Government has also put in place an investor-friendly policy, making most sectors open for 100% FDI.
Ganesh Ramaswamy, Partner at Kreston Rangamani and Associates LLP and Global Tax Group Regional Director for Asia Pacific advises clients to transition from being founder-led to implementing professional processes, improve corporate governance standards and devising new business models to secure growth in the next 12 months.
India's growing economy attracts international business
Recent research on global investors highlighted India and China as having entrepreneurs that are the most likely to expand globally. Does the data ring true for you in your international client profile?
Both the Reserve Bank of India and the International Monetary Fund, have forecast a 6.8% growth in the Indian economy for the year 2023. The GDP grew by 8.7% in 2022, which was boosted by the pandemic-induced low base of 2021. India continues to be one of the world's fastest-growing major economies. Steered by decisive leadership, India is rising to the occasion through a significantly enlarged global profile. India is in the process of setting the pace to become a US$ 10 trillion economy in a decade. Therefore, we believe that this brings about tremendous opportunities for our firm in engaging ourselves in international business in future years.
How has the economy changed in the last 12 months?
The Indian economy seems to be moving on after its encounter with Covid-19, staging almost a full recovery in 2022 and is poised to reach the pre-pandemic growth path in 2023. The capital expenditure incurred by the Indian Government increased by over 60% in 2022, from that of the previous years, which was a significant growth driver of the Indian economy. India's economic growth in 2022 has been primarily led by private consumption and capital formation. The improved health of the private sector banks, has moved them to a better position to increase the credit supply in the market. Consequently, the credit supply to the SME sector has been remarkably high at over 30% in 2022 when compared to previous years. Various agencies, worldwide, continue to project India as the fastest-growing major economy at 6.5% to 7% in 2023.
Investment opportunities in India
Some of the business opportunities which are currently looking very attractive in India are the following:
Warehousing and inventory management for e-commerce businesses
Mobile wallet payment solutions
Website to App conversion services
Health record digitisation and sharing
Cyberattack prevention services
Which sectors are doing well? Have you seen a growth in clients?
Healthcare. renewable energy, information technology, real estate, fast-moving consumer goods and the automobile sectors are currently doing very well in India. According to the Asian Development Bank, the Indian economy is expected to grow by 8% in the next 5 years. Many experts speculate that the Indian stock market, would progress and expand to be the fifth largest in the world, accounting for high market capitalisation.
Client profile in India
Most of our clients have gone global. As a result, they expect a lot from us to support their business needs. Some of our clients need a 24/7 accessibility service for their financial data from us. Some of them insist that we should have the latest and most advanced security measures to protect their business data against data breach threats. A large number of our clients need us to understand their overall financial position and devise financial strategies that aid their growth. In fact, all of our clients do not want us to be a mere accounting firm, but become a trusted advisor for them.
What advice are you giving clients to secure growth in the next 12 months?
Our firm advises clients to transition from being founder-led to more effectively implementing professional processes, improving corporate governance standards and devising new business models. We constantly remind our clients about the fact that the digitisation of the world economy has brought substantial disruption to existing business models, and therefore, they need to create more value out of their core businesses to build new innovative models to serve their clients in these rapidly changing times.
Investment trends for the future
India is expected to attract US$ 100 billion of foreign direct investment (FDI) in 2023, on the back of economic reforms and ease of doing business in India. In 2022, the total FDI, inclusive of equity, capital and reinvested earnings, rose by more than 10% over the FDI received in the previous year with a CAGR of 6% for the last five years. The Indian Government has put in place an investor-friendly policy, where most sectors except some strategically important sectors are open for 100% FDI.
Finding a Kreston Global firm in India
Please visit our "Doing Business in India" for general advice on setting up a company in India.
If you would like to find out more about setting up a business in India, please get in touch or fill out the enquiry form below and one of the team will contact you.