China's One Belt, One Road initiative – is it the superhighway to growth?
March 5, 2018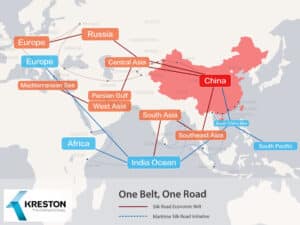 "The China One Belt, One Road is going to be the new W.T.O – like it or not." These are the words of Joe Kaeser, chief executive of Siemens at the recent Davos conference. Officially unveiled in 2013, the grand vision of the Chinese government to create a vast infrastructure and transport network that spreads over 68 countries has the potential to reshape the global political and economic landscape. The initiative harks back to Zhang Qian, a Chinese imperial envoy, who 2,000 years ago helped establish the Silk Road – a series of trade routes that linked China to Central Asia and Arab kingdoms to promote its eponymous export.
However, the One Belt, One Road (OBOR) initiative is not just about creating physical connections. It aims to create the world's largest platform for economic cooperation. This includes policy alignment, trade and financing collaboration, and social and cultural cooperation. OBOR has already made some practical achievements, including bilateral cooperation agreements with Hungary, Mongolia, Russia, Tajikistan, and Turkey. Furthermore, 200 enterprises have also signed cooperation agreements for projects along OBOR's routes.
In the wake of slowing domestic growth, President Xi Jinping is banking on OBOR to fuel the next stage of Chinese expansion. Naturally, such an ambitious plan does not come cheap. Along with creating the Asian Infrastructure Investment Bank and a separate development fund, The Economist reported that the total investment costs could be as high as $8 trillion – and there is no official end-date in sight. But these mammoth costs are not deterring the world's most populous nation. In fact, they have also invited Latin American and Caribbean countries to join OBOR with the Chinese Foreign Minister, Wang Yi, stating that the region was a "natural fit for the initiative".
However, the West views the OBOR with a mix of skepticism and mistrust. The Trump administration sees China as a strategic competitor and OBOR as a tool to exert political influence. Neither UK PM Theresa May nor French President Emmanuel Macron have officially endorsed the plan due to trade imbalances between the EU and China. OBOR projects have also faced criticism because of the lack of transparency and use of Chinese contractors. The Center for Strategic and International Studies stated that Chinese companies received 89% of contracts for Beijing-backed infrastructure projects in Asia and Europe. On top of this, there have also been a significant number of stalled and failed projects – mostly due to funding and bidding issues. The Financial Express revealed that a $3 billion refinery contract in Myanmar was terminated to due financial issues and a $15 billion high-speed railway in Thailand was cancelled as not enough work was subcontracted to Thai companies.
OBOR has the potential to be the most important economic development of the 21st century. And as a result, it's imperative that businesses are aware of all the opportunities and tax implications it brings. It's also important to acknowledge that OBOR stretches into politically complex and volatile regions, and any business must be aware of the potential hazards. As the Professor of Global History at Oxford University, Peter Frankopan, put it: "It's not just China that is changing. If you look at Turkey, or the rebirth of the Taliban in Afghanistan, or the return of Iran to the family of nations, or escalating pressure in Kashmir, these are all interrelated problems. We tend to look at things in silos. But it seems more instructive to see it as a whole region, shaking under a lot of pressure." But whatever the long-term implications of OBOR, Kreston's global network of experts have the knowledge to help your business operate efficiently and profitably, in China and across the entire OBOR region. What also differentiates Kreston members from other firms is that we can put a face to the members in our network, meaning that you get the benefits of a deeper, more cooperative network who can utilise their local specialist knowledge to get the best results for your business.