Clive Stevens recognised for outstanding contribution to local business community
June 25, 2018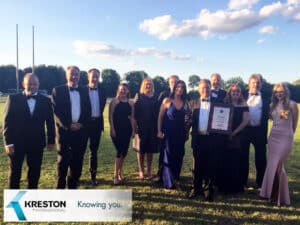 Congratulations to Clive Stevens, Kreston Board Director and Chairman of UK firm Kreston Reeves, who was honoured June 21st at the Kent Excellence in Business Awards, the KEiBAs, for his outstanding contribution to business in the county.
In awarding Clive the 'Outstanding Contribution to Business in Kent', the judges praised his role in building one of the country's largest accountancy firms, his role in Kreston International, and his contribution to the accountancy profession, where he sites on the Council of the Institute of Chartered Accountants.
The judges singled out his wider contributions to Kent and its thriving business community including his role as Chair of Turner Contemporary, on the Board of the inward investment agency Locate in Kent, and as a trusted adviser to local businesses including Quex Park.
In addition, the judges also highlighted Clive's role as a Kent Ambassador and his appointment as Deputy Lieutenant of Kent.
On collecting the award, Clive Stevens said: "This award means a great deal to me. My heart and passion has always been in Kent and to support the great businesses we have in this county whether that is through the work we do at Kreston Reeves or through the various other roles I enjoy. It is humbling to know that I was nominated for this award by my friends and colleagues, but it is of course only possible because of the great team that surrounds me."
Andrew Griggs, Kreston Board Director and Senior Partner at Kreston Reeves added:
"Clive Stevens has been at the heart of the Kent business community for more than 40 years and the whole firm, our clients and friends of the firm will join me in passing on our warmest congratulations. It is well deserved and I am sure he will continue to shape the Kent business community for many years to come."