Delegates focus on client service at EMEA 2018 in Zurich.
May 21, 2018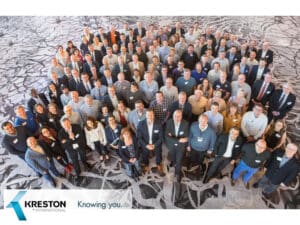 The 2018 Kreston EMEA Conference was held in Zurich, Switzerland where 139 delegates from 31 countries were in attendance.
Kreston European Regional Secretary Dagmar Brösztl-Reinsch of Kreston Bansbach opened the conference and then Manuel Vogel and Henri Pisari from local members a&o Kreston and Fiduciaire Michel Favre presented an overview of their firms, the economy and updated all on the practices of doing business in Switzerland. In addition, Manuel introduced Marc Rudolf, Director at Greater Zurich Area AG, the official Investment Promotion Agency for the economic region of Zurich.
Kreston Director of Quality and Professional Standards, Andrew Collier gave an update on the networks performance and development strategy to date.
The second part of the business programme consisted of break out groups again focusing on the core groups of audit and taxation.
Lead by Andrew Collier, the audit session included an update on Professional Standards; an IFAC SMP Committee update by Alex Peal, Partner at James Cowper Kreston; a discussion around the impact of Data Analytics and AI on member firms to date and Rich Howard from MHM presented a regulatory update from the US.
Petra Uylen from Kreston Grip Audit chaired the international tax breakout with debate taking place around Brexit and Post-Brexit tax plans; Trumps US Tax Reform and Tax Ethics after BEPS.
Both groups also took part in networking sessions with time spent discussing matters relevant to assurance and tax compliance.
The business programme concluded with an energetic and fun presentation from Geoff Ramm, creator and author of Celebrity Service & OMG Marketing. Geoff's presentation set out to challenge and inspire our members, offering award-winning ideas to help create a great client experience which in turn can lead to lucrative repeat business.
The excellent social programme included a walking tour of Zurich, chocolate tasting session and lunch cruise on Lake Zurich where delegates and companions took in the beautiful scenery.
Dagmar commented:
"This was another excellent programme in a fantastic location which provided exceptional opportunities for our members to network, discuss international referrals and business opportunities. Our audit and tax special interest groups are going from strength to strength and are of significant value to those who attend, building those relationships which are key to the development of the network"
The 2019 EMEA Conference will be held in Warsaw, Poland.