Delegates look to the future at Kreston's annual conference.
October 25, 2018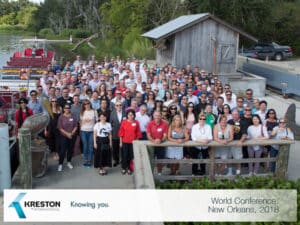 132 delegates and 41 companions attended from 32 countries at the Windsor Court Hotel in New Orleans, USA, recently.
Bent Kofoed, Chairman of Kreston opened with the AGM and then Liza Robbins, Kreston CEO presented Kreston's strategic plans for the years ahead.
Our key-note this year was futurist Patrick Schwerdtfeger of Trend Mastery, a leading authority on technology trends. Patrick's first thought-provoking session was entitled "Anarchy".  Patrick highlighted that today's leaders need to understand the trends in today's technology and that to succeed, they need to understand the dynamics of disruptive innovation and the implications of an increasingly decentralised world.
"Build a culture of innovation! Build a team of leaders! these are exciting times. The next ten years will be nothing like the last ten!" This was the primary message in Patrick's interactive second session and that by reviewing technology developments at a strategic level and identifying the trends tying them all together, leaders can think more about modern technology and the opportunities available.
Other presenters included Mark Koziel, Executive Vice President of the AICPA who summarised 'The State of the Accounting Profession'; Jerry Grisko, President and CEO of CBIZ and Chris Spurio, President of CBIZ's Financial Services Division gave an overview of CBIZ, its services and the business opportunities available in the US.
Additional networking and knowledge sharing took place during Audit and Tax break out groups.
The final day of business included a Brexit presentation from the UK's perspective, given by Board Director and Chairman of Kreston UK, Adrian Reynolds from Duncan & Toplis.
With a focus on the success of secondments, Andrew Sandiford from Bishop Fleming, UK; John Warner from BHP, UK; and Martin Power, Chairman of Bentleys, Australia, gave an entertaining insight into the development of the programme to date and the involvement of their firms. Tanya Morris from the International Office concluded with an update on the application and secondment offer procedure.
Liza commented:
"It was excellent to meet so many of our members at the conference. Our annual conference is an excellent opportunity to learn more about each other and the participation of all will really help to develop more working and trusted relationships."
The 2019 conference will take place in New Delhi, India from 27 November until 1 December.