Delegates Plan for Tomorrow's Practice at 45th Kreston Annual Conference
September 28, 2016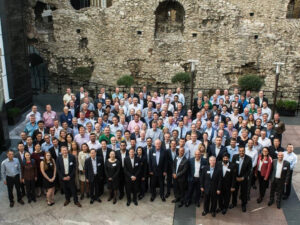 The Kreston International 45th Annual Conference was held in London over 21st – 25 September and was attended by a record 235 delegates and companions from 43 countries and 88 member firms.
The accountancy market is increasingly competitive and faces rapid change in regulation, technology and client service demands. To this end, the Conference programme focused on methods to be 'Future Ready', and how to implement changes now to ensure the future success and sustainability.
Kreston Chairman, Bent Kofoed, introduced the AGM and Council meeting by welcoming all to the business sessions. Kreston CEO, Jon Lisby provided an update on strategy and referenced the issues facing member firms globally.
The strategy to further develop the Kreston brand proposition was presented to the conference for further discussion. Delegates participated in shaping the proposal which it is aimed will be introduced and embedded in the cuture of all member firms in the short term.
Author, Rob Nixon who is considered a global authority on how accounting firms need to change to meet the challenges and opportunities presented by digital disruption, was our Conference key note speaker and presented two lively sessions on consecutive days.
Other high profile speakers during the event included Economist, Rain Newton-Smith from the CBI who presented an overview of the Economic and Political landscape of the UK and Michael Izza, CEO of the ICAEW, who spoke about forces for change and opportunities for growth open to the UK and the accounting industry in the future.
Jon commented:
" London saw our highest attendance at an Annual Conference. It is excellent that so many of our members took the opportunity to visit the UK to both experience a fascinating and thought provoking business programme and to learn about our history and culture. To network with Kreston colleagues at an event, such as our Annual conference, is a great way to build trusted relationships, which in turn drives additional referral business."
Social events included a Medieval Banquet at the historical vaults at famous St Katherines Dock; a lively team treasure hunt activity using a fleet of iconic London red buses and as finale, an exclusive visit to the Tower of London where delegates enjoyed a private viewing of the Crown Jewels followed by drinks and a dinner reception in the spectacular White Tower and Armouries.
The 46th Word Conference, 'Working Together is Success' will take place in Siem Reap, Cambodia, 7 – 12 November 2017.