Duncan & Toplis win at British Accountancy Awards.
September 27, 2018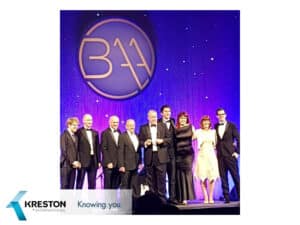 Kreston is pleased to announce that Kreston UK firm Duncan & Toplis has won the Outstanding Advisory or Client Project of the Year Award at the British Accountancy Awards 2018. Attended by over 800​ guests from the industry, the ceremony took place last night at the Grosvenor House Hotel in London.
The British Accountancy Awards, run by Accountancy Age, are regarded as the industry's most prestigious accolades, pinpointing professional development and highlighting those that have demonstrated excellence in their profession.
Duncan & Toplis were also nominated alongside fellow UK member, James Cowper Kreston for Mid-Tier Firm of the Year.
Managing Director of Duncan & Toplis and Chairman of Kreston UK, Adrian Reynolds said:
"We are all delighted to have won the British Accountancy Award for 'Outstanding Advisory or Client Project of the Year 2018'. The client project was our involvement from inception to the opening of the International Bomber Command Centre in Lincoln. The centre doubles as a memorial to the 57,861 men and women, many of whom were based in Lincolnshire, that gave their lives whilst serving Bomber Command and is also a living archive to achieving the 3 r's – Recognition, Remembrance and Reconciliation. We continue to support this worthy project. www.internationalbcc.co.uk "
Pictured- Adrian, centre with his team collecting their award.