Exco Africa look at 2020 business strategies in Saly-Senegal
August 10, 2018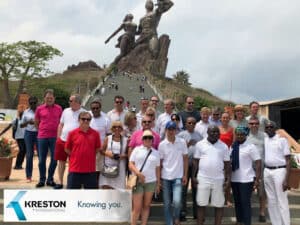 Exco Africa, the African network of Kreston member Exco France, held its annual African Conference in Saly-Senegal this year.
The meeting was held from 4th – 8th July 2018 at the Lamantin Hotel and Partners from Exco Africa and Exco France were in attendance.
The theme focused on "2020 business growth strategies" and how to make entrepreneurship simple and natural. The business sessions included discussions following on from seminars held in Vienna in January and Casablanca in March, including how to nurture business growth. Exco Africa define themselves as a "community of business gardeners", their strategy focused to help clients grow and perfect their businesses.
Members from Exco Africa also updated all on regional developments and presented their plans for the coming year.
The conference concluded with the election of Mrs. Ellen Tognisso, Partner of Exco FIDAF, Benin to President of Exco Africa and Mr. Abdoulaye Camara, Managing Partner of Exco Senegal to Chief Executive Officer.
Ellen commented:
"First of all, I want to thank all the Partners of the network for appointing me President of Exco Africa. I am enthusiastic and excited to have been appointed this position and will rely on the active support of all my associates to carry out the task entrusted to me. We can consolidate our achievements together but also achieve our own goals of success, prosperity, expansion and visibility"
Abdoulaye added:
"This four-day event was very constructive with all participants showing great team spirit both in terms of exchange and collaboration during both our business and social programmes. In my role as Chief Executive Officer we will continue to build and develop relationships and I will spare no effort to achieve our strategic objectives, notably the geographical expansion and increased visibility of Exco Africa".
Pictured, delegates visiting the Renaissance monument.