Future work in the global game of change
January 31, 2019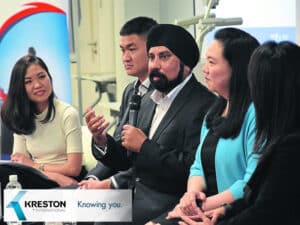 Author: Sarjit Singh, Executive Chairman at Kreston member firm, Ardent Associates LLP.
The future of work is not just about learning a new skill or activating technology, it is about learning to learn and the ability to create purpose and meaning in what we do.
Every generation expresses themselves differently. But the same values define us. People do business with people they know, like and trust.
Relationships make us what we are. So, our professional values of trust, responsiveness, quality, integrity and collaboration underpin everything we do.
We are living in an age of change, which is unprecedented in scale and impact. We see changes in how business is being done, how old models are being upended (think artificial intelligence, blockchain, robo-advisory) and how technology is going to revolutionise pretty much everything.
How is this going to play out? How is the professional accountant going to remain relevant in this changing world? How are we going to secure our future in the face of imminent change? These are questions that should preoccupy every professional accountant today!
With no crystal ball to foretell the future, we must believe that the narrative for the future of the accounting profession is one we can determine and shape.
Meeting the Challenge
The good news is that there is plenty of opportunities for growth. The real question is how an accounting professional or business can access these opportunities to do better.
We have several things going for us. We are where the growth is. We are right smack in the middle of the biggest upcoming demand for professional services. Asia is the world's fastest-growing economy and Asean is the world's seventh-largest economy. Asean is expected to rank as the fourth-largest economy by 2050.
The compound annual growth rate (CAGR) of the global accountancy market is forecast to grow at a rate of 3.7% from 2016 to 2021. Similarly, the Asia-Pacific accountancy services market is expected to grow at a higher CAGR of 6.5% in the same period.
All these figures add up to one thing — huge potential opportunities for the accounting professionals in the Asean.
It's more a question of how the accounting professional can best leverage those opportunities to secure a piece of the pie.
Hunting in a Pack
"Collaboration". This was the one word I heard at every meeting and focus session of Singapore's Committee on the Future Economy — Legal and Accounting Services Working Group where I had the humble privilege to serve as a member. Professional firms will need to expand their networks to source complementary partners with skills and knowledge to better serve their clients jointly in this region as clients expand their footprints.
The future will require professionals to be able to lead and work with multidisciplinary project teams to come together to solve the problems that clients grapple with.
Beyond that, we may see more professional firms with multiple disciplines to complement the breadth and depth of services that can be provided to clients through multidisciplinary teams to break down some of the silos across industries.
Today, accounting firm PricewaterhouseCoopers (PwC) is the 10th-largest legal practice in the world. PwC has legal presence in more than 85 jurisdictions in the world. As a comparison, the largest law firm in the world, Baker McKenzie, has legal presence in about 76 jurisdictions in the world.
Technology
Technology will not replace the professionals, but it will change how accountants, lawyers, engineers, doctors, and educators work; clients' expectations of their professional advisors; and what clients are willing to pay for. More importantly, it will differentiate the professionals. Those who do not embrace technology will be left behind.
Technology platforms will emerge to allow networks to develop across professional industries. Professionals, however, must not lose sight of the importance of truly understanding their client's business and future plans. Professionals need to help their clients think about their business and anticipate future needs or issues that the client may not have thought about.
There is an opportunity to provide highly customised advisory to clients that technology cannot easily replicate.
It will be important for professionals in the service firms to have industry experience at some point in their career to truly understand their clients' business and their challenges.
This will allow the professionals to further deepen their expertise.
Although technology can benefit many, there are weaknesses associated with it — for example, cyber security and privacy. The Achilles' heel of technology can create opportunities for the professionals in the governance, risk management and compliance realms. Although commoditisation may bring some lower cost options to clients, there still has to be accountability if something were to go wrong.
Beyond adopting baseline technology, there is a need to foster a culture of innovation. We can identify two areas to develop a culture of pervasive and collaborative innovation — technology innovation and business model innovation.
Technology is changing the process and delivery of professional services.
Leveraging technology enables firms to not only enhance productivity — such as automating repetitive tasks — but also provide additional value to clients. Professional firms who fail to take advantage of technology and do not adapt to new realities risk losing market share to more forward-thinking practices or may even be replaced by technology solution providers altogether.
Business model innovation presents opportunities to traditional accounting firms to meet their clients' need for fuller services in a variety of disciplines.
The top accounting firms have diversified their businesses and have expanded beyond statutory audit services by providing higher value services — eg consulting and risk management services. They have also partnered companies from other industries, eg technology companies, to leverage each partner's strengths to enhance its services to clients.
Future-ready Skills
Accounting professionals should strive towards becoming holistic, trusted business advisors to their clients. This would entail the ability to "see around the corner" to guide clients in making strategic business decisions.
There is thus a need for accounting professionals to build on their core strengths and skillsets, and become professionals who can bring value (eg anticipate and advise clients on new trends) and help clients shape business strategies.
The accounting professionals will need to be open to any technology disruptions and be prepared to look for opportunities that technology brings to either upskill or leverage the efficiencies of the technology.
As technology replaces routine tasks, accounting professionals need to acquire deeper skills to create value, and more importantly, ensure that they can utilise their skills effectively on the job.
Learning throughout life needs to be our way of life, so we can quickly and easily adapt to new job demands, or even switch jobs or industries as the economy transforms.
We must continue to build capabilities and competencies to meet the demands of a changing landscape to stay relevant. We must always be ready to improvise, experiment and innovate.
As a profession, we need to go beyond the pursuit of the highest possible academic qualifications early in life to focus on acquiring and using knowledge and skills throughout our lives.