IBERAUDIT Kreston focuses on its international strategy at annual conference.
November 30, 2016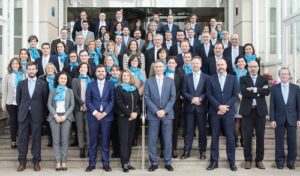 IBERAUDIT Kreston, Kreston's member network with over 400 professionals in offices across Spain, Portugal and Andorra held its 2016 national conference in Corunna earlier this month. Over 70 Partners and professionals were in attendance.
The conference was opened by host Jorge Borrajo, Managing Partner at IBERAUDIT Kreston's Corunna's office and then Mercè Martí, Chairwoman and CEO at IBERAUDIT Kreston, presented on the company's performance this year and on the firm's business objectives for the future. The group's strategy will continue to focus on ways to achieve greater international recognition through projected performance and collaborative working.
Key note this year was Constantino Fernández Pico, who presented on the economic and business challenges of the Football Club "El Deportivo" and "Altia" a company that offers Information and communications technology (ICT) services.
Alberto Sebastián, a member of the Audit Technical Commission and Partner of IBERAUDIT Kreston's Saragossa's office and João Lopes da Silva, Lisbon's Partner, presented a technical session entitled "Independence in accountancy" and then there were opportunities for all delegates to network during management, audit, tax and social network breakout sessions.
During the meeting, Elena Ramírez, Kreston Board Director, offered an overview of Kreston's actual position and current international strategy. Additionally, Juan Gomeza, Partner from the network's Bilbao's office presented a session regarding Internal Audit services, a service line which is being promoted by other Kreston firms.
Elena commented:
"In the future we will see a growth of demand for international capability and in IBERAUDIT Kreston we can rely on the Kreston network, in its current position in the market, to cover this demand around the world".
The conference was closed by Mercè Martí, Chairwoman and CEO at IBERAUDIT Kreston.