Is globalisation going digital?
November 7, 2017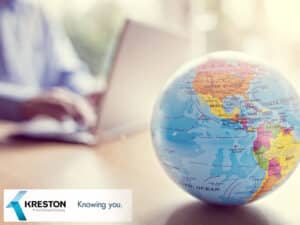 To say that there's been a backlash against globalisation in recent years would be an understatement. From demonstrations in France and Germany, to President Trump's pledges to renegotiate or withdraw from global trade deals, some of the world's most influential countries have taken significant steps to bring their global output back in-house.
But despite this potentially seismic shift, the globalisation genie can never really be put back in the bottle. It's more the case that globalisation is evolving. A recent Harvard Business Review article highlights that while the growth of global trade – and the flow of capital across borders – isn't at the level it once was, the role of data in driving the global GDP is rapidly on the rise. Research from McKinsey Global Institute last year suggested data accounted for 35.9% of the world's $7.8 trillion GDP in 2014.
It has long been the consensus that those who have benefited most from globalisation are the multi-national corporations. But this new "digital globalisation" seems to level the playing field, granting new opportunities to SMEs. Thanks to platforms such as Amazon, small businesses can turn themselves into "micro multinationals", able to offer their goods and services to a global marketplace and compete with the industry juggernauts. This sentiment is echoed by Alibaba CEO Jack Ma, who commented: "The rules of globalisation were decided only by a certain number of big global corporations but now thanks to ongoing digital transformation, the power will not stay in the hands of big enterprises only but it'll be shared with small and medium size firms as well".

It's just not businesses that are recognising the opportunity – Estonia is a nation at the forefront of digital globalisation. Its e-Residency initiative enables people to register an EU-based company from anywhere in the world, complete with a business bank account. Speaking to City A.M., Chief Information Officer for the government of Estonia Siim Sikkut stated: "Digital initiatives like e-Residency are crucial tools for realigning the role of government in the Information Age".
Here at Kreston, we too are making our clients aware of the opportunities that digital globalisation presents – ensuring they have the knowledge, insights and expertise they need to negotiate the different cultural, financial and tax systems of whichever geography they operate in. Former United Nations General Secretary Kofi Annan once noted, "It has been said that arguing against globalisation is like arguing against the laws of gravity". However, it would seem that those laws are now ready for updating and reinterpretation. And Kreston can help your business stay at the forefront of this new age of globalization.