Kreston and Exco Africa admit Cacoges in Congo – Brazzaville to membership.
December 12, 2017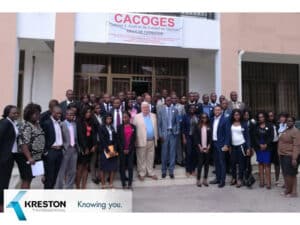 Exco Afrique, the African network of Kreston member Exco France continues to develop its effective and strong network in Africa by admitting audit, accounting and consultancy firm Cacoges as member. Cacoges is based in Congo-Brazzaville.
Cacoges, formed in 2010, is headed up by Partners Brice-Voltaire Etou-Obami and Reich Fresney Tsoumou.
Senior Partner Brice-Voltaire said:
"We are proud to join Exco Africa and the Kreston network, and we are committed to maximizing the Exco Africa brand presence regionally and internationally and to working collaboratively to ensure mutual success."
Youssoupha Diallo, President of Exco Africa, commented:
"We are delighted to welcome Cacoges to Exco Africa and to the global network. We have been looking for a quality firm to represent us in The Congo. Our ambition is to continue to develop and build a strong and dynamic brand across the continent. This can only be done by admitting members of this quality and we are on the right track ".
The admittance of Cacoges comes soon after Exco Africa and Kreston expanded its presence in North Africa.