Kreston and Exco Africa welcomes ACDEN and AB Partners, Morocco to the network, expanding its offering in North Africa.
October 16, 2017
The firms will join Exco Afrique, the African network of Kreston member Exco France.
Both firms offer audit, tax advisory and consulting services from offices in Casablanca.
Senior Partner of AB Partners, Mr. Saad Belfakir said:
"Exco Africa is pursuing its ambition to expand and build an effective and strong network in Africa. We are proud to join Exco Africa and the Kreston network and are committed to building the presence of the Kreston brand both regionally and internationally and to work collaboratively to ensure mutual success"
Senior Partner of ACDEN, Mr. Mohamed Khalid Ben Otmane added:
"Exco Africa is a cohesive network that comprises numerous African countries between them employing more than 450 talented, dedicated and knowledgeable professionals.
The admittance of ACDEN gives our clients with business interests in North Africa additional support from talented, dedicated and quality counsellors who can help our clients, both individuals and organisations to thrive, helping to secure long-term business sustainability for future generations."
Youssoupha Diallo, Chairman of Exco Africa commented:
"The admittance of AB Partners and ACDEN completes Kreston's coverage in North Africa. We now have quality member firms in Morocco, Mauritania and Tunisia. Together, this grouping will be instrumental in building a strong dynamic and powerful brand".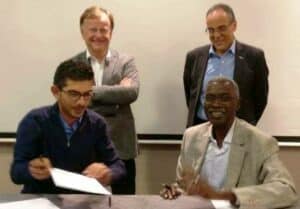 (Left to right standing are Exco President  Pierre Vieillard  and Mohamed Khalid Ben Otmane and left to right seated is Saad Belfakir and Exco Africa CEO, Youssoupha Diallo).