Kreston China smashes records
September 11, 2017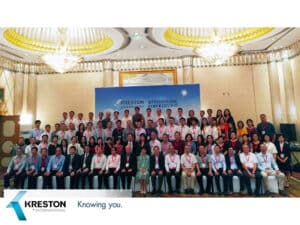 Kreston China has powered forward in the last year – reaching 9th in the national rankings with 5,200 professional and support staff in 71 offices spread throughout China. This year's national Conference also broke records when 92 delegates joined the host firm Brighture in Qingdao – the Olympic Sailing City.
The Conference programme was spread over 4 days and was opened by Christopher Liptau, International Partner for Brighture together with Edmond Chan, Kreston's Asia Pacific Director and Jon Lisby Kreston's CEO. Presentations were received from the China Desks of the USA, UK, Australia and France who were in attendance together with representatives from Singapore and Malaysia.
The Conference considered the implications of Base Erosion and Profit Shifting "BEPS" and the trends in International Accounting Standards before delegates broke into specialist group discussions.
Jon Lisby said:
"The group photos say it all – Kreston's growth continues and we have incredible strength in China. The strength of our national relationships – gives real meaning to our brand positioning – Kreston. Knowing You."