Kreston in Africa hold legal and tax forum.
April 13, 2017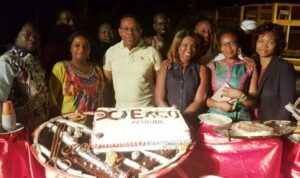 Exco Africa, the network of Kreston's French member Exco France, held a three-day legal and tax meeting in Saly, Dakar recently to focus on the legal and tax implications regarding enhanced corporate optimisation strategies.
Also under discussion were the latest developments in cross-border work, with an emphasis on legal certainty and business development.
Bocar Alpha BA, Secretary General of Exco-GHA-Mauritanie commented:
"This three-day event was very productive. Through our important discussions, we can further develop our legal and tax best practices and have raised the profile of Exco Africa and the Kreston brand in the region".
Kreston is currently ranked as the 13th largest accounting network in Africa.
Pictured front, left to right:
Benjamin Togo (Mali), Nicole Bateg (Gabon), Sybel Akuesson (Bénin), Aichatou Konta (Mali), Alimata Douamba (Burkina), Christelle Sousse (Bénin).