Kreston India goes from strength to strength at annual conference.
January 24, 2018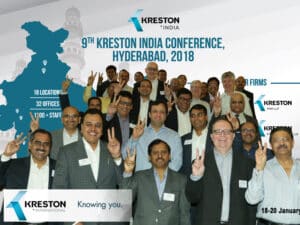 The 2018 Kreston India Conference was held in Hyderabad recently, where 45 delegates attended including colleagues from the UK and Australia.
The programme was varied with excellent key note presentations covering Wealth Management and Succession Planning; Outsourcing and opportunities for SME's in India and Insolvency – Law & Practice.
Host firm Kreston P. Murali Advisors provided an insight into the investment opportunities available in Telengana state – the youngest state to be formed in India and Andrew Collier, Kreston's Director of Quality and Professional Standards updated all on the global landscape and Kreston's Knowing you. strategy.
Internationally acclaimed speaker, Vinod Menon from the Art of Living Foundation took an informal session entitled " Engineering yourself to the finish line" which included meditation, yoga and breathing techniques.
Sunil Goyal, Kreston Board Director and Managing Partner of Kreston SGCO said:
"This conference was excellent, from the venue, audience, topics, speakers and social events and we more than met our objectives of learning new aspects of all practice areas plus forming new and developing existing relationships with our colleagues. Although Jon Lisby wasn't in attendance due to health reasons, Andrew's presence made a difference to the profile of the conference.
Andrew commented:
"This was a great conference. Colleagues from our firms in India collaborated to examine the range of services that can be offered to their clients. The conference was superbly organised and the social events offered a great opportunity for delegates to build trust and have fun together. It was clear from the conference that India will continue to grow strongly in the future and Kreston's Indian firms are ideally placed to assist any business looking to expand into this market. This was an outstanding conference and our thanks go to the Kreston SGCO team, Kreston P.Murali Advisors Pvt,Ltd and Kreston Rangamani for the organisation".