Kreston India powers ahead
January 26, 2017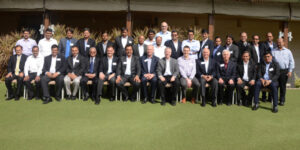 The 2017 Kreston India Conference was held in Mumbai over 21-23 January with 44 delegates drawn from the 10 national member firms. The Conference was also delighted to welcome colleagues from USA member, CBIZ MHM and UK members, Kreston Reeves & Bishop Fleming.
The programme was varied with excellent key note presentations from Nilesh Vikamsey, the incoming President of the Institute of Chartered Accountants in India who spoke on the development of the profession and Sushil Agarwal, the Group CFO of Aditya Birla, a US$40bn multinational group, who delivered a valuable insight into the clients expectations of outstanding service from their professionals.
The business programme was interspersed with a fascinating session on "Spiritual Wealth v Material Wealth delivered by Swami Anubhavanandji and on the application of breathing techniques to manage stress.
Jon Lisby, Kreston's CEO said "This was an outstanding conference and our thanks go to the Kreston SGCO team and Kreston Rangamani for the organisation.
The 2018 Kreston India Conference will be held in Hyderabad over January 18th to 21st.