Kreston International launches a new website to match its ambitions
December 6, 2016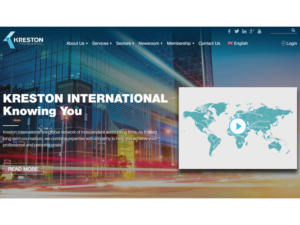 Kreston has unveiled a new website in an exciting development that matches the network's ever-growing ambitions as a professional services firm of the future.
The network has evolved in recent years from being a loose association of like-minded accountancy firms to a major player on the global professional services stage. It has established itself as an exciting alternative amongst mid-tier branded networks.
The new website is dynamic, mobile-enabled and global in outlook. It is the first vehicle for Kreston International's new brand positioning, which capitalises on the unique mix of expertise and empathy the network prides itself on.
The new website is just the start of a structured programme for Kreston International as it begins to live its new brand proposition.
Kreston CEO, Jon Lisby comments:
"We're proud to have built a strong presence in so many parts the world. The new website tells a bigger story about our network and captures what makes us a force to be reckoned with: our strong relationships, our global reach and our willingness to do things differently. We hope it sparks many an interesting conversation with clients, present and future."