Kreston members look to the future of work at 46th World Conference in Cambodia.
November 15, 2017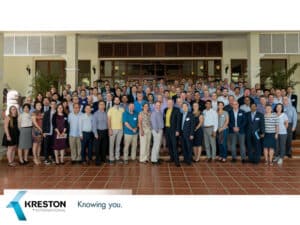 Working together for success in a rapidly changing market for professional services as we develop our global network to deliver growth in profits and value for all member firms.
This was certainly true of our programme at Kreston's annual conference, which this year was held at the Sofitel Resort, Cambodia over 7 – 12th November where 106 delegates and 34 companions attended from 60 countries.
Kreston Chairman, Bent Kofoed welcomed all to the start of the AGM and business sessions and Director of Quality and Professional Standards, Andrew Collier provided an update on the network's current strategy.
Our keynote this year was internationally recognised business strategist Graeme Codrington, who specialises in the future of work. Over two highly thought provoking and entertaining sessions, Graeme presented on topics that will have a major impact on our future success, "Future-focused leaders", which explored how smart leaders need to keep ahead of change by building and then adapting a future focused skill set; and 'Making the most of your Millennials', a fascinating insight into the young workforce of today and how technology is the 'norm' for them in all aspects of everyday life. Graeme highlighted how we can all maximise on the opportunities Millennials can deliver and the rewards available to success once they are fully integrated into the business environment.
Other guest speakers were Mike Whitten from accounting software provider Inflo who gave an insight into how technology is transforming the accounting profession and Ben Bush from The Frameworks, updated all on their work to date concerning Kreston's Knowing you brand strategy. Part of the programme was devoted to member presentations including those given by Board Directors Rich Howard from MHM, Sunil Goyal from Kreston SGCO and Clive Stevens and Andrew Griggs form Kreston Reeves who updated all on the developments in their firms and their respective countries.
Bent commented:
"The 2017 World Conference in Cambodia was a great success. The interaction between members was strong as always and the business programme very interesting. The farewell dinner at the temples of Angkor will live in our minds forever."
Jon Lisby, Kreston CEO said
"It is excellent that so many of our members took the opportunity to travel to such a fascinating country as Cambodia and to enjoy our business and social programme. To network with Kreston colleagues at an event, such as our annual conference, is a great way to build trusted relationships, which in turn drives additional referral business."
Social events included a grand tour of famous Angkor Wat, Bayon Temple and Ta Prohm Temple; an exciting and competitive team building event around the streets of Siem Reap; A visit by boat to Tonle Sap Lake and the floating villages and an unforgettable final exclusive dinner within the temples of Angkor, a unique experience.
The 47th Kreston International Conference, "Winning the Revolution" will take place in New Orleans 17th – 21st October 2018.