Kreston members recognised at Annual Awards Ceremony in London
October 3, 2016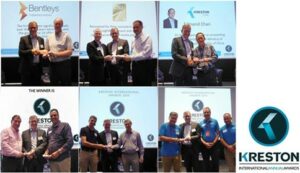 The Kreston Annual Conference was again the location for the 2016 Kreston Awards Ceremony.
The winners were announced at The City Grange Hotel in London on September 24th by Kreston CEO, Jon Lisby and the recipients were presented with their award by Kreston Chairman, Bent Kofoed.
The awards recognise those individuals and firms who have achieved over the last 12 months and in the following categories:
Congratulations to all winners:
• International Collaboration Award (where two or more firms have bid together to win work)
o WINNER – VRC Bedrijfsrevisoren, Belgium, for their work with the World Bank; Doctors of the World and Red Cross Mali and AEXIS Group involving Kreston firms in Niger, Mali, France and the Netherlands,
• International Service Line Development Award (for the firm which has developed or introduced a new service line).
o WINNERS – Kreston SGCO, India and McLean Delmo Bentleys for their Global Outsourcing Service
• International Firm Growth Award (for the firm which has seen strong growth over the last year).
o WINNER – Bentleys PTY, Australia – Group has seen significant growth and now has 19 offices in three countries.
• International Social Networking Award (for the firm or individual who has made an outstanding contribution by applying new or unique marketing practices across social media).
o WINNER – CBIZ Inc. US – for their consistent efforts to post insightful, relevant and quality content across social media platforms and the application of highly shareable info graphics to accompany their content.
• International Professional Recognition Award (for the individual who has achieved professional recognition within their industry).
o WINNER – Edmond Chan, Kreston Asia Pacific Regional Secretary and Managing Partner of Kreston CAC for his reappointment as accounting advisor to the Ministry of Finance, Peoples Republic of China (PRC)
• International Business Referrer
o WINNER – Kreston Reeves – for most outbound referrals.
Jon commented:
"Once again, the quality of the shortlist for these awards makes it an extremely difficult task for the judges. Congratulations go to all our winners and all those who were nominated. It would be excellent if all members could keep the awards in mind and send us details of any potential nominees over the next few months and leading up to our 2017 event in November ".