Kreston moves to new London headquarters as it looks to a bright future
October 8, 2019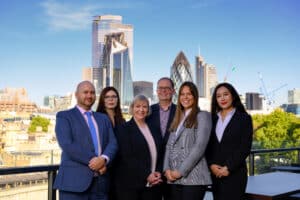 Global network of independent accounting firms, Kreston International, has announced that it has moved to new headquarters in the City of London.
The move reflects the network's growing prominence and the desire of its members to have a central office that matches the forward-thinking image of the network itself.
Based in WeWork Moor Place (Moorgate, London), Kreston is now in the centre of seven floors of buzzing, vibrant and entrepreneurial businesses, just the sort of businesses that Kreston firms like to work with.
The new headquarters allows Kreston members to visit and hold their own international client and intra-firm meetings on the premises.
Kreston's CEO, Liza Robbins:
"We have been looking for an office space that works for Kreston and reflects the ambition of the network. Working in this agile and modern space will be a catalyst for all the great things that we are doing at Kreston, and it will help us go from strength to strength."
Having a great new headquarters requires an equally vibrant team to fill it. Kreston is delighted to announce the following appointments.
Content Marketing Manager, Hana Ball:
Originally from New Zealand, Hana joins Kreston from Engage Technology Partners, a cloud-based recruitment platform. Hana holds a degree from Victoria University of Wellington, majoring in Marketing and Management.
Member Services Manager, Katarzyna Grabarczyk:
Fluent in English, Polish and Spanish, Katarzyna (Kat), is an experienced member services specialist focussed on working with our European members. Kat joins Kreston from Morison KSi. She holds a Master's degree in English literature from the University of Gdansk.
Member Services Executive, Xinxin Cusack-Huang:
Fluent in English and Mandarin, Xinxin has joined our Member Services team focussing on the Asia Pacific region. Xinxin has a degree from Ocean University of China, majoring in Cultural Industry Management, and a Master's degree in HR Management & Consulting from the University of Bath.
Commenting on the appointments Strategic Marketing Director, Marc Charlton, said:
"We are delighted to have built a small but energetic team here at Kreston, to serve the needs of our member firms, and help the Kreston offering reach businesses all over the world. In just a few short weeks Hana, Kat and Xinxin have already had a significant impact on how we do things at Kreston and we can all look forward to a bright future for the network."