Kreston Reeves win Large Practice of the Year Award at Accounting Excellence Practice Awards.
September 28, 2018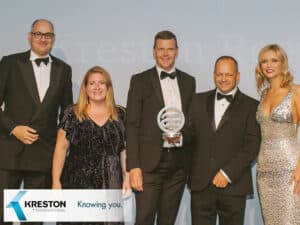 Congratulations to UK firm Kreston Reeves, crowned the UK's best large accountancy practice at the prestigious annual Accounting Excellence Practice Awards. The ceremony took place on 20 September at the Intercontinental Park Lane Hotel in London's West End.
The awards aim to recognise and celebrate the finest in the profession by showcasing firms and individuals who are driving service standards to new heights.​
The firm beat off tough ​competition from other firms from across the UK to the award. The judges gave Kreston Reeves the award in recognition of the firm's impressive growth, its focus on first class client care, the processes the firm has put in place to ensure its clients receive only the best support and advice, and its dedication to its staff.
Nigel Fright, Managing Partner at Kreston Reeves, said:
"We are absolutely delighted to have won this award which recognises the hard work and dedication the whole firm shows day in and day out.
"We work hard to ensure that all of our clients receive the very best support and advice so they can focus on running their business or rest comfortably knowing their family finances are in safe hands.  We can only do this through the terrific teams we have across our nine offices in London, Sussex and Kent. This award is theirs."
Kreston UK member, Duncan & Toplis were also shortlisted in this category and shared a table with Kreston Reeves at the event. Duncan & Toplis have since gone on to win the prestigious British Accountancy Award for Outstanding Advisory/Client Project of the Year. You can read more 
here​.
Pictured left to right:
Partner, Richard Spofforth; HR Director, Jessica Damms; Partner Andrew Tate; Managing Partner, Nigel Fright and host, TV Presenter Rachel Riley.