Kreston UK collaborate in Glasgow.
February 28, 2017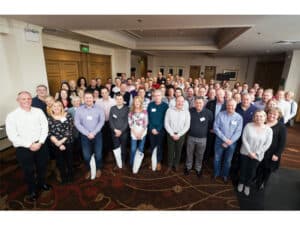 100 delegates from Kreston firms across the UK and Ireland attended the 2017 Conference at the Hilton Hotel in Glasgow to share best practice and to discuss developments across several specialist sectors including Audit, Corporate Tax, IT, Marketing, Probate and Private Client; Managing Partners, HR and Advisory and Outsourcing.
Kreston CEO Jon Lisby, who provided an update on global developments and brand strategy, commented:
"Thank you to local member Consilium for hosting the event this year, the organisation was flawless. The feedback from each of the group sessions again testifies to the value of the event and the outcome sees a further strengthening of future collaboration and client service. With the organic growth and mergers achieved over the past year, Kreston UK, as a combined organisation would now rank as the 10th largest UK accounting firm with over 2,400 professional and support staff generating fee revenues of US$200m".
John Warner, Chairman of Kreston UK and Managing Partner of BHP (North of England) concluded the business sessions and the conference ended with dinner at famous House for an Art Lover, designed by Mackintosh, Glasgow's most famous architect.
The 2018 conference will take place in Jersey.