Liza Robbins attends Duncan & Toplis Directors' Briefing
November 26, 2018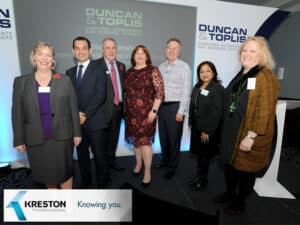 Kreston CEO Liza Robbins joined 200 business leaders recently for the 10th Duncan & Toplis Directors' Briefing Meeting held in Lincolnshire.
The conference, held near Grantham hosted seven speakers from the world of business, finance, academia and politics.
Owners of some of the regions' largest businesses were in the audience, including from B&C Express, Househam Sprayers, Pygott & Crone and Wilkin Chapman.
This year's theme was creative connections and joined-up thinking and attendees were invited to share ideas, experiences and best practice on many of the most important business challenges of the day.
Adrian Reynolds, Managing Director of Duncan & Toplis and Chairman of Kreston UK said:
"This event shows just how much business potential there is here in the East Midlands region. The speakers' varied backgrounds and expertise made for an engaging and thought-provoking event for attendees to discuss, debate and share knowledge".
2018 marks the tenth annual Directors' Briefing and we continue to attract big names from the world of business. With just five months to go until Brexit, this year's theme of creative connections and joined-up thinking is arguably more important now than ever."
Speakers included Dominic Bunning, senior FX strategist for HSBC who discussed the opportunities and challenges facing businesses in the run up to Brexit and Vice President of the British Chamber of Commerce, Sarah Howard, who explained how her organisation was "relentlessly championing" businesses on the issues of Brexit, skills shortages and staff challenges.
Liza updated all on her role at Kreston International and her plans for the future of the network.
Duncan & Toplis has 11 offices throughout the East Midlands.
Pictured is Liza, left with Dominic; Adrian, Sarah and additional speakers, Paul Richmond, Managing Director of The Gro Group; Ruchi Aggarwal, Director of Lincoln International Business School and Helen Doughty, Director of SHD Composites Materials.