Mercè Martí is the first woman to be awarded the "Professional Career" Award of the ACCID
June 6, 2018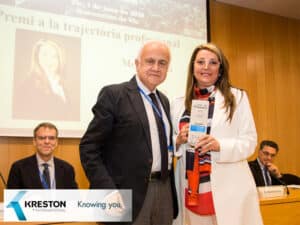 The Catalan Association of Accounting and Management, ACCID, has announced that Mercè Martí, CEO and Chairwoman at Kreston's Spanish network, Kreston Iberaudit and President of Grupo20 Association, has been presented with the ACCID "Professional Career" Award, during the 5th ACCID and APC Conference which was held recently.
Congratulations to Mercè on receiving this special accolade.
The conference, which took place at The University of Vic in Catalonia, looked at "New Trends in Accounting, Control and Finance" and was attended by 300 entrepreneurs, executives and professionals.
Pictured – Mercè is presented with her award by Daniel Faura, President of ACCID.