Millennials – the who, the what and the Y
October 12, 2017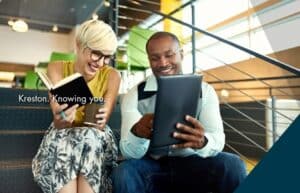 In the UK, they're known as Generation Y, in Germany Generation Maybe, and China has labelled them as the generation that eats the old. Millennials, people born between 1980 and the mid-1990s, have many names, and few of them are complimentary. They're often described as lazy, entitled and narcissistic, but is this really the case? That was certainly not my experience of the Kreston members who attended our recent Future Leaders Conference in Berlin. What I found was a group of people who were dynamic, collaborative, and passionate. They were full of ideas on how to push the business forward and find new ways to help our clients. It inspired me and highlighted the importance of understanding this generation. In fact, our upcoming conference being held in Cambodia in November features a talk called "Making the Most of the Millennials: engaging the digital native generation as clients and employees". Our guest speaker, Graeme Codrington, will be outlining how best to maximise the potential of Millennials and the massive rewards that can come from understanding this generation.
The transfer of wealth (the Y you need to care)
In the US, it's estimated that a staggering $30 trillion of financial and non-financial assets[1] will be passed from Baby Boomers to Millennials. However, such a colossal transfer of wealth does not come without its difficulties – and this is where Kreston can help. From asset protection to family wealth and trust planning, our experts across the globe can help ensure that your money finds its way to your loved ones in the most tax-efficient way possible. But looking ahead, what will this great shift in Millennial spending power mean for the wider economy and your business? To answer this question, we need first need to know what constitutes a Millennial.
Millennial traits (the who they are)
Though the descriptions of Millennials vary from region to region, they are set to become the largest generation in history. According to the US Census Bureau, the 75.4 million US Millennials now outnumber the 74.9 million Baby Boomers. And on top of that, they are the most educated generation in history. Roughly 79% of US Millennials have at least a bachelor's degree, compared to 69% for Generation X and 62% for Baby Boomers.[2] They are tech savvy and more health conscious than previous generations but they are also beset with money issues. More than 40 million US Millennials have student loan debt, owing an average of $29,000 each and a combined total of more than $1tn.[3] They also marry later and are opting to stay at home longer with their parents. Yet Millennial attitudes towards home ownership could change. The sheer numbers of this generation and an increased desire to settle down could spark a wave of home sales in the future.[4]
Access and the double-bottom line (the what they want)
For Millennials, it's not about buying goods or services – it's about accessing them. Brands such as Airbnb, Uber and Spotify have come to typify what is now known as the "sharing economy". Quite simply, they want to have the goods or services they want without the high fixed costs or hassle of ownership. This is already turning numerous industries on its head, and at Kreston, we have been at the forefront of helping companies adjust to this shifting landscape.
Furthermore, if you want your business to remain relevant to a Millennial workforce, you need to know what they want. Today, it's not enough for a business to be profitable, it must also have social impact. This is what's known as the "double-bottom line". A study by The Society for Human Resource Management revealed that "94% of Millennials want to use their skills to benefit a cause".[5] It's no surprise then to see the biggest brands take Corporate Social Responsibility (CSR) extremely seriously. Lego, Google and Microsoft took the top three spots in the Forbes list of the 10 Companies with The Best CSR Reputations In 2017.[6] And as part of our own CSR initiative here at Kreston, I'm proud to say that we're adhering to four of the UN Sustainable Development Goals which are: Good Health and Well-being, Quality Education, Decent Work and Economic Growth, and Responsible Consumption and Production.
I believe that understanding this generation is fundamental to the success of your future business. Millennials are often on the receiving end of negative press. They are characterised by a selfish attitude and having their eyes glued to their smartphones, but I for one have great faith in their potential. As the founder of Alibaba, Jack Ma, put it, "Trust the young people; trust this generation's innovation. They're making things, changing innovation every day. And all the consumers are the same: they want new things, they want cheap things, they want good things, they want unique things. If we can create these kinds of things for consumers, they will come."
Jon Lisby, Kreston CEO
Sources: