Record number attend Asia Pacific Conference in Bangkok.
November 16, 2016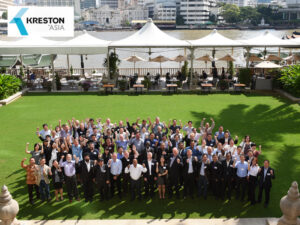 Kreston's 2016 Asia Pacific Conference was held in the Peninsular Hotel, Bangkok, Thailand from 10th – 13th November attracting a record 82 delegates from 21 countries.
Hosted by member firm Thai Info, the conference business agenda this year focused on international brand development and cross cultural communication strategies.
Key notes were Nidhi Kush Shah, Founder and Director of Alchemy Consulting who discussed intercultural communication and awareness and Dr Bonggot Anuroj, Acting Senior Executive Investment Advisor at The Board of Investment (BOI) of Thailand who updated delegates on Thailand's Investment Promotion and Incentive Policies.
Ben Bush of The Frameworks lead on International brand development and, following their presentation at Kreston's World conference in London, the strategy to further develop the Kreston brand proposition was again presented for further debate. Delegates participated in table discussions to shape the proposal which will be introduced and embedded in the culture of all member firms shortly.
Kreston CEO, Jon Lisby, updated the group on Kreston strategy and Andrew Collier, Kreston's Director of Quality and Professional Standards, discussed Criminal Acts and the responsibilities of accountants within the profession.
Kreston members who presented included Senior Partner, Boonsri Techavarutama, from Thai Info; Mark Chapman, CEO of Kreston's Australia network, Bentleys; Clive Relf, Private Client Tax Partner of UK firm Kreston Reeves and Pawel Brejzerk, Managing Partner of BG Polska Audyt, based in Poland.
Jon commented:
"The continued growth in attendance at the Asia Pacific conference including increasing numbers from outside the region highlights the strategic importance of the region both for businesses and Kreston member firms. The conference covered a range of topics from investment incentives and options for both inbound and outbound business through to dealing with cross cultural communication. I am sure the Asia Pacific conference will continue to go from strength to strength and I look forward to the 2017 conference."