SGCO celebrates 25 years and launches Kreston SGCO
January 26, 2017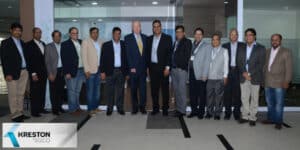 Kreston's member firm in Mumbai has celebrated its 25th Anniversary with a series of events aligned with the Kreston India Conference.
* A visit of Kreston's CEO Jon Lisby to the offices to mark the occasion with the partners and staff
* An evening of entertainment organised entirely by the SGCO employees – Udaan 2017
* An celebration evening attended by over 400 clients
Jon Lisby said " It was immensely pleasing to participate in these celebrations. From the small beginnings of 25 years ago, Sunil Goyal and Manoj Singrodia have grown the business of SGCO significantly and to an enterprise with the highest reputation for quality and service staffed by some 400 professional and support staff. The evening of entertainment was scripted, directed, acted, performed and produced by 80 of the SGCO employees and watched by an audience of over 500 employees and family members. The quality and diversity of this show was amazing .The event was a tribute to the culture of hard work and fun that is clearly visible in the firm and a result of the positive tone set from the top".
The celebrations culminated with an evening at the Sofitel Hotel, Mumbai attended by over 400 clients. During the evening Sunil Goyal thanked the clients for their support over the period and announce the creation of the new consulting entity – Kreston SGCO underlining the capabilities of the firm and the global services available.