UK firm Clive Owen named Accountancy Firm of the Year
July 10, 2018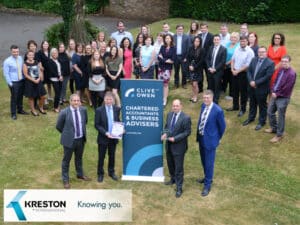 The International Office is pleased to announce that Kreston UK firm Clive Owen has been named Accountancy Firm of the Year at the recent North East Accountancy Awards.
The awards recognise excellence within the fields of finance, accounting and tax from all industry sectors operating in the North East of England.
Over the last year the firm has continued to grow, appointing two new partners and expanding its staff team to more than 100. The dedicated tax team has grown to 11, seven of whom are CTA qualified tax advisers.
The firm has also rebranded during the year and launched a new, mobile friendly website alongside the implementation of new systems to increase efficiency. The firm plans for further organic growth leveraging technology to deliver efficiencies and service improvements for their clients.
Its recent achievements are impressive, including securing grants for clients totalling almost £30m in 2017, bringing its 6-year total to more than £200m, which has helped create or safeguard more than 10,000 jobs. The firm has also helped to establish two new grant programmes with funding of £15m+ available to applicants.
The award success follows acknowledgement for Clive Owen's corporate finance team in Experian's annual UK and Republic of Ireland mergers and acquisitions report in which it ranked number two in the North East, based on the volume of M&A transactions completed in 2017.
The education team continues to expand and now works with over 100 schools in the region and recently co-authored the seventh Kreston Academies Benchmark report.
Tony Luckett, Managing Partner at Clive Owen said:
"I am very proud that Clive Owen LLP has been acknowledged as the leading independent accountancy firm in the North East.
"The firm works closely with its clients to learn about their businesses and offer a bespoke, personal service that is professional, relevant and proactive. To receive this independent endorsement is incredibly rewarding and testament to the hard work of the talented team right across the firm."