Van Herwijnen Kreston. Knowing you.
February 7, 2018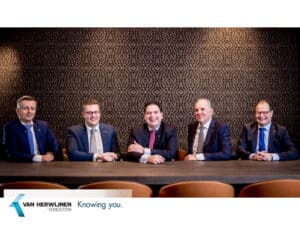 Kreston is pleased to announce that member ALH van Herwijnen & Co in The Netherlands has rebranded as Van Herwijnen Kreston.
Van Herwijnen Kreston is the latest of our firms to adopt the brand and details were introduced to staff at a launch party recently.
Van Herwijnen have also adopted Knowing you. as their strapline, adding strength to those firms that are already adopting key elements of our brand platform.
At the event, Managing Partner Martin Hommersom presented on reasons behind the name change and branded promotional items and collateral was available to review.
Martin commented:
"Branding as Kreston will raise our profile regionally and help raise that of the network across the world. Working across time zones in many regions, we can, together with our Kreston Partners guide our clients to success. We are confident that if a client needs advice that stretches beyond our own expertise – or territory – we can find the right partner to help. We aim to be as close to our Kreston members as we are to the clients who value our counsel. Kreston. Knowing you".
Also in attendance was Jaap Sommerkijk, Director of administrative services firm ABC Lingewaard. Currently in collaboration with Van Herwijnen Kreston, the plan is for both firms to merge in April.
The next stages in Van Herwijnen Kreston's brand strategy include launching a new website  www.vhkt.nl in March and sending communications to clients to gradually update them on the transition to the new brand.
Pictured left to right: Kenny van Oort, Jaap Sommerijk, Martin Hommersom, Rien van Herwijnen (Founder and Senior Partner) and Patrick van de Langenberg.