Webinar: Trading Internationally – a UK business perspective
November 10, 2020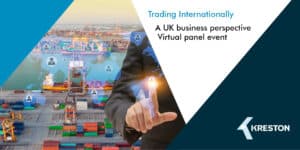 As the UK now grapples with further Coronavirus restrictions and the Brexit transition period coming to an end on 1 January 2021, there are tough implications for UK businesses that need to trade internationally.
A leading panel of guest speakers from the UK network of Kreston member firms will meet on Monday 23 November 2020, 14:00-15:00 (UK time) to offer commentary on a wide range of themes, including Brexit planning and overcoming barriers to international trade, whilst offering insights and help to businesses wanting to trade internationally going forward.
Kreston members can view the event page for more information.